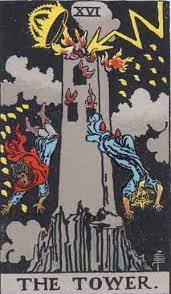 Meaning of the card The Tower (16) Unexpected events, can build my inner strength , and growth!
The Tower card, also known as card number 16 in the Tarot deck, represents a powerful and transformative experience. It is associated with the Crown chakra, the planet Mars, and the zodiac sign Scorpio. Symbolized by water, this card signifies intense and sudden events that can bring about destruction, pain, loss, tragedy, and chaos.
While these unexpected events may initially seem overwhelming and challenging to navigate through, they ultimately serve a greater purpose. The Tower card teaches us that sometimes it is necessary for old structures to crumble in order to build something stronger and more resilient.
In the midst of this upheaval, we are given an opportunity for growth and self-discovery. The Tower card reminds us that even in times of great turmoil, we possess an inner strength that can guide us through difficult situations.
Through the revelation brought about by this card's energy, we gain a deeper understanding of ourselves and our circumstances. We learn to embrace change rather than fear it. This process of transformation allows us to shed outdated beliefs or patterns that no longer serve us.
While the journey through The Tower may be painful at times, it paves the way for profound personal growth. By embracing these unexpected events with courage and resilience, we can emerge stronger than ever before.
Find Your Soulmate with the Assistance of Chantel Cooke

Many things from her dreams become reality in the everyday world. Through her honesty and authentic approach, she now helps people thrive in their lives. We bring you an exclusive interview with Chantel Cooke from Dream Infinity Brand 88, a Psychic Medium who is thriving herself in the fields of Tarot, Astrology, Numerology, and Dream Interpretation. We discuss TarotScope, the Oracle cards she designs, how she helps people find their soulmates and more. Only on MysticMag!
Can you tell me a bit about the beginnings of your spiritual journey and how you became interested in the field of Astrology and Numerology? Full Interview here!