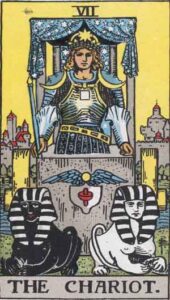 Meaning of the card The Chariot (7): I am ready for my challenges!
The Chariot card, represented by the number 7 in the tarot deck, holds deep symbolism and meaning. It is associated with the Throat Chakra, which signifies effective communication and self-expression.
The Chariot card is closely linked to the Moon and the zodiac sign Cancer, both of which are associated with water. Water symbolizes emotions and intuition. This connection suggests that emotions play a significant role in facing challenges head-on.
Ambition and direction are key themes within The Chariot card. It represents a strong willpower and control over one's life circumstances. The charioteer in the card is depicted as being focused on his goals, determined to succeed despite any obstacles that may arise.
Self-discipline is another important aspect highlighted by The Chariot card. It reminds us that success requires dedication, focus, and determination. By harnessing our inner strength and staying committed to our path, we can overcome any challenges that come our way.
In summary, The Chariot card embodies the idea of being ready for challenges. It encourages us to tap into our ambition, willpower, self-discipline, and determination in order to achieve success. By maintaining focus on our goals while remaining adaptable to changing circumstances, we can navigate through life's journey with confidence and triumph over adversity.
Find Your Soulmate with the Assistance of Chantel Cooke

Many things from her dreams become reality in the everyday world. Through her honesty and authentic approach, she now helps people thrive in their lives. We bring you an exclusive interview with Chantel Cooke from Dream Infinity Brand 88, a Psychic Medium who is thriving herself in the fields of Tarot, Astrology, Numerology, and Dream Interpretation. We discuss TarotScope, the Oracle cards she designs, how she helps people find their soulmates and more. Only on MysticMag!
Can you tell me a bit about the beginnings of your spiritual journey and how you became interested in the field of Astrology and Numerology? Full Interview here!