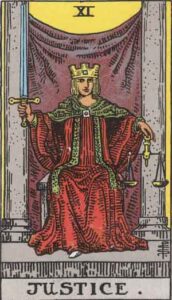 Meaning of the card Justice (11) I believe in Justice for all, and the earth!
T he card Justice (11) holds profound significance, representing the principles of fairness, integrity, and accountability. It is closely associated with the Heart Chakra, symbolizing the balance between emotions and rationality. Aligned with the planet Venus and the zodiac sign Libra, this card embodies the element of Air, which signifies clear thinking and communication.
In its upright position, Justice serves as a reminder of cause and effect, emphasizing that every action has consequences. It urges individuals to approach situations with transparency and honesty while maintaining a fair and unbiased attitude. This card highlights the importance of upholding laws and regulations while seeking justice for all.
When contemplating Justice in tarot readings, it often signifies legal matters or lawsuits. However, its broader message extends beyond legal proceedings to encompass ethical decision-making in various aspects of life. With clarity as its guiding principle, Justice encourages individuals to evaluate situations objectively before making judgments or taking action.
Ultimately, Justice reminds us that fairness should prevail in our interactions with others and within society as a whole. By embodying its principles of integrity and accountability, we can strive for a world where justice is upheld for everyone on Earth.
Find Your Soulmate with the Assistance of Chantel Cooke

Many things from her dreams become reality in the everyday world. Through her honesty and authentic approach, she now helps people thrive in their lives. We bring you an exclusive interview with Chantel Cooke from Dream Infinity Brand 88, a Psychic Medium who is thriving herself in the fields of Tarot, Astrology, Numerology, and Dream Interpretation. We discuss TarotScope, the Oracle cards she designs, how she helps people find their soulmates and more. Only on MysticMag!
Can you tell me a bit about the beginnings of your spiritual journey and how you became interested in the field of Astrology and Numerology? Full Interview here!