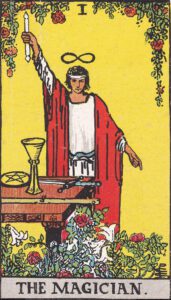 Meaning of the card The Magician : I will try my best to reach my goal!
The Magician card in tarot represents a powerful combination of elements that can help individuals manifest their goals and desires. It is associated with the Throat Chakra, which governs communication and self-expression. The influence of the planet Mercury and the zodiac sign Virgo further enhances its significance.
Symbolizing creativity, will-power, and resourcefulness, The Magician encourages individuals to tap into their inner potential to achieve their aspirations. This card embodies the art of communication, urging individuals to effectively express their desires and intentions.
By harnessing the energy of The Magician, individuals can utilize their communication skills to manifest their goals. This card reminds us that we have the power within us to create our own reality through focused intention and clear expression.
Whether you are seeking career success, personal growth, or any other endeavor, The Magician serves as a reminder that with determination and effective communication, you can overcome obstacles and reach your desired outcome. Embrace this card's energy and trust in your abilities as you embark on your journey towards achieving your goals.
Find Your Soulmate with the Assistance of Chantel Cooke

Many things from her dreams become reality in the everyday world. Through her honesty and authentic approach, she now helps people thrive in their lives. We bring you an exclusive interview with Chantel Cooke from Dream Infinity Brand 88, a Psychic Medium who is thriving herself in the fields of Tarot, Astrology, Numerology, and Dream Interpretation. We discuss TarotScope, the Oracle cards she designs, how she helps people find their soulmates and more. Only on MysticMag!
Can you tell me a bit about the beginnings of your spiritual journey and how you became interested in the field of Astrology and Numerology? Full Interview here!